Butterick
5363 ~ View D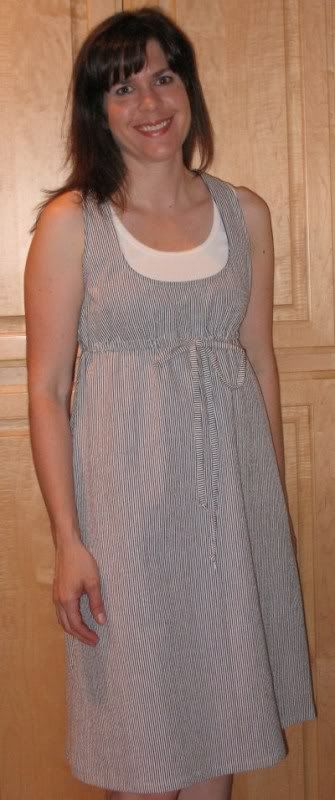 Pattern Description:
Wardrobe pattern with jacket, tunic, dress, and pants. I made the sundress which has a drawstring umpire waist and
racerback
.
Pattern Sizing:
8-22, I made a size 8
Did it look like the photo/drawing on the pattern envelope once you were done sewing with it?
Cuter I think!
Were the instructions easy to follow?
Yes, the instructions were very easy.
What did you particularly like or dislike about the pattern?
Well I didn't even notice this pattern until I saw Adrienne's dress ~ here is her
review
. I loved it immediately and knew it would be a great dress to wear on those hot summer days. It's loose and cool, but really cute. I was right and so glad I grabbed this pattern when
Buttericks
were on sale.
Fabric Used:
blue & white striped seersucker fabric - at least I think it's seersucker, it has the texture of seersucker. Whatever it is, it's cotton and I found it in my stash. I believe I bought it at Joann's. On a side note, one of my sons saw me wearing this dress and said "hey mom, I really like your new hickory dress". DH & I got a kick out of that, so now it's coined the hickory dress at my house since it looks like the same type of blue and white striped fabric (tho hickory shirts are not seersucker!
lol
). For those that don't live in logging country, this is a
hickory shirt
.
Also worth noting, the inside of the neck and armholes are finished with single fold bias tape for a nice clean finish. You can see that in my photo below.
Pattern Alterations or any design changes you made:
I made no changes, just sewed it as it.
Would you sew it again? Would you recommend it to others?
I actually already have another dress cute out in red embroidered linen. I'd definitely recommend it and thank Adrienne for bringing this one to my attention. I've been so happy to have it too because we've had a very hot summer in the Pacific NW so I've worn it a lot of times already (I actually made it two months ago and am just getting around to reviewing it, oops!).
Conclusion:
Fabulous and easy summer dress that is comfy yet has some style. Fast to sew too, but is fashioned to wear a tank top underneath which is not one of the components in the pattern. My personal choice is
Ottobre

Woman 2-2008-1
.
Other views~
back
upclose

of fabric and label