Long sunny summer days have made me neglectful of my blog. I have sewn some and actually have been inspired to write a few reviews recently so the next few posts will be reviews of various garments.
This garment I'm not all that tickled with. I had higher hopes, but it didn't really end up being what I hoped. Please don't feel bad if you don't like it either, I think you'll be in good company and honestly such comments won't hurt my feelings (promise!).
Butterick 5283 - View C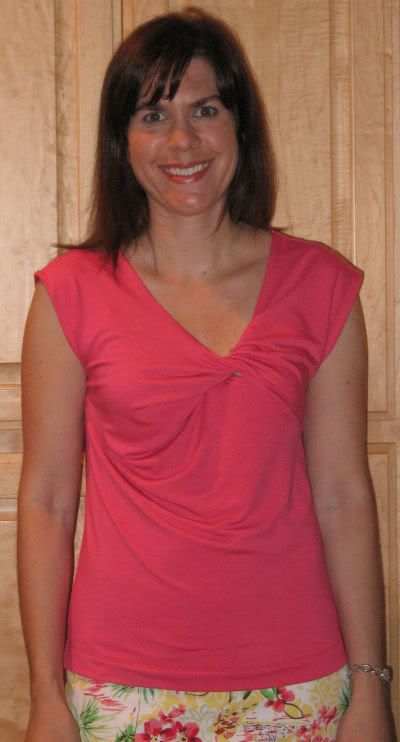 Pattern Description:
Close fitting pullover knit top with two different twist variations (one centered and one to the side) and sleeveless or long sleeved options.
Pattern Sizing:
6-22, I made size 8 which is my typical size for tops
Did it look like the photo/drawing on the pattern envelope once you were done sewing with it?
Yes
Were the instructions easy to follow?
I made view C of this top and found the instructions to be adequate until I got to step #5. In that step there is a drawing of the top from the inside and it says "Twist left front as shown. With right sides together, pin left front matching notches...". Well it does show what the top should look like from the inside after it's all stitched together, but I had a heck of a time figuring out how to get the top to look that way. Honestly I must be a complete dunce because it took me 20 minutes to figure out what the heck to do. This is my umpteenth twist top, so I should be able to figure out a twist top pretty easily. Such was not the case here and honestly I have no clue how I got it too look the way it did. It looks like the pattern envelope so apparently I figured it out. I honestly think this was pretty lame of Butterick to do. You could at least show step-by-step how to make the twist. Especially for someone with no experience, it's not very nice to leave them high and dry. Maybe it was just me tho and it's really not as hard as I made it out to be. The rest of the instructions were adequate for the top (at least for view C & D).
What did you particularly like or dislike about the pattern?
Originally I really liked the variation of the side twist, that is the reason I purchased this pattern. My dislike is the rotten instructions for forming the twist.
Fabric Used:
hot pinky/peachy rayon/lycra knit
Pattern Alterations or any design changes you made:
None were made.
Would you sew it again? Would you recommend it to others?
I'm not sure I'll sew this again. My hubby thought it was weird the twist wasn't centered. I really like the idea of the top, but I don't know that I really like it that well on. I'm still on the fence, but am not sure it's going to be a favorite go to top. I feel like when I look in the mirror it looks like I have only one boob! LOL
As for a recommendation, I guess I'd recommend it if it's the style you're after. The views of A & B look nice so maybe I'll try that one someday.
Conclusion:
I'm just not sure how I feel about this top. If it's your style, go for it, but beware the directions for making the twist aren't good (IMO anyway).