I feel like I've been making good headway getting things cranked out lately. I'm using up fabric I have and getting different gifts made.
First up is a garment for me. It's one of my favorite patterns, BWOF 10-2005-114. I actually purchased the fabric in November when I was taking my pants fitting class. I can't remember the blend, but it's a sweater-y knit of sorts. Not that stretchy, I guess more like a fancier fleece. It has a nice texture to it and the colors are berry. The photo is a bit dark, I think it's prettier in person. So cozy and a welcome addition to my wardrobe.
I also made one for my sister out of a sweater knit I got from Joann's a long time ago. It too is prettier in person (Is this a good enough reason for a new camera since I have such crappy shots??? If so, please email my hubby and tell him! lol). I was going to get rid of the fabric, but when my sister saw it in the pile she really liked it so I decided I'd make her a sweater too for a Christmas gift. We're the same size and she'd tried on another one I made so I'm sure it will fit her. The fabric is definitely her colors and not mine. This is a "what was I thinking" purchase.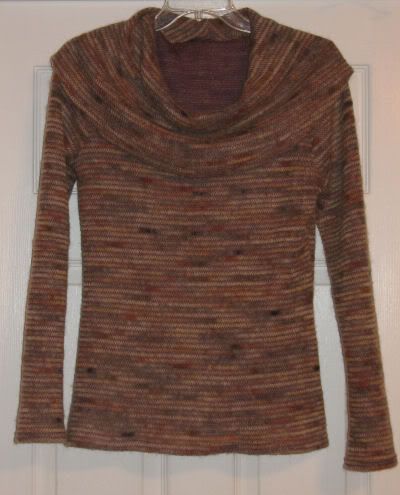 And a few box bags from
this tutorial
~ thanks to
Stacy
for pointing out the tutorial on her blog. I will post a review on PR of this pattern very soon. The directions are a little confusing, but the pictures help. I also found a helpful post on this
blog
about how to do the corners in an easier manner. Below are the fruits of my labor. I made the black one larger for my SIL - you can see it matches the Weekender Bag she'll get for graduation in March.
More baby bibs! I just love the Valentine one.
And another throw pillow for my couch from some leftover fabric (ivory chenille on the back side). I got smart this time and put a zipper in it. This is soooo much better than hand sewing the pillow shut because it's faster, plus I can take the pillow out and wash the cover. I might go back and redo the other pillows I did earlier in the year.
So that my friends, is what I've been sewing. Actually I also made two more aprons from my Grandma's apron pattern to put in my "ready to gift" box. I forgot to take pictures of those, but I surely don't need another apron right now since I already have three in rotation plus a Christmas one. Oh and I made my youngest a pair of pants from Ottobre too, but they are set aside for Christmas. Nothing exciting, just blue twill, very cute nonetheless.
Today the kids are home for a snow day. The Pacific NW is getting hammered with Arctic air and now snow. In the Portland area the kids have been out all week, but we didn't get the snow they did over the weekend. Now we're all getting it and it's just beautiful out! It rarely snows here anyway and when it does, it's here for a minute and then gone. The extended weather report is snow off and on and below freezing temps through Tuesday (as far as the weather forecast goes). We might be in for a white Christmas afterall!!!!